ItemExchange 1 year Anniversary Update

One year ago, the ManiaExchange network got its newest member: ItemExchange! The idea was to give players a platform to easily discover the additional items and blocks they needed to create even better maps. Also, IX was designed to incorporate the 3D model creator community that was about to become bigger with the release of Trackmania and give them a new home to receive the appreciation they deserve for their work.
In one single year, IX users have generated 20,000 items and 600 sets. 250,000 downloads have been registered, 2,500 likes were given by users and more than 1,300 people registered to use ItemExchange. We want to give you a big thank you for your contributions to the platform!
To celebrate and to give something back to you, we have prepared some nice updates for the page...
New basket feature

The new basket system works similarily to the PlayLater feature on MX. You can collect a basket full of items & sets on IX and later download them in a batch! If you choose to, you have them all grouped by environment and their original folders, so all you have to do is unzipping the archive into your game folder.
You will also be able to create a set based on your basket. This custom set can be updated later (items added and removed) and appears as a normal set in the search.
Map sets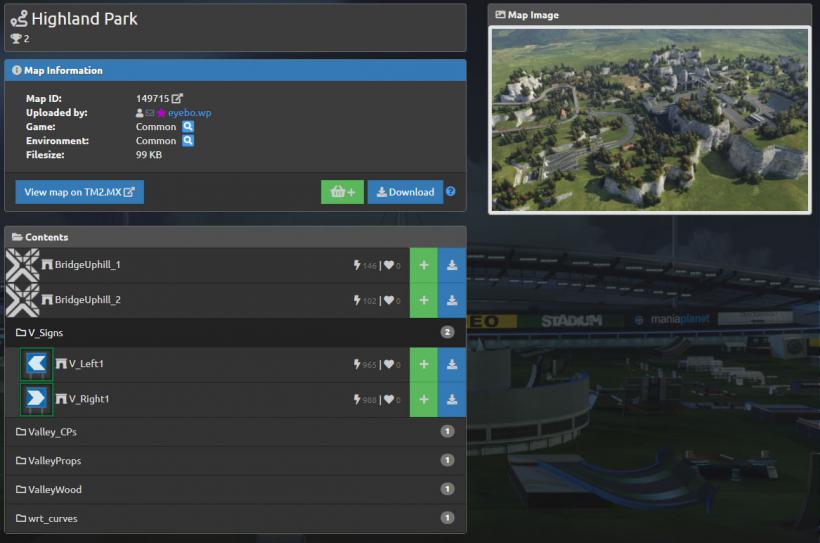 For each map on the map exchanges you can now download a set containing all items inside that map that were uploaded on IX. You can also add those to your basket. Map sets can be found through navigating on the relevant map page. A "View on IX" button on top of the item list will lead you to the map set.
Accessible buttons for the map sets will come to the map exchanges soon, but you'll be able to access those using the URL item.exchange/set/map/[site]/[mapID], with site being 0 for TM2.MX, 1 for SMX and 2 for TMX.
Further additions
News
Reworked block browser with ability to share links to a specific block
TM2020 items are now included (thanks to MosKi & Solux!)
Users that downloaded a set will now get a notification, if it is updated
Fixes
Counters on the profile page (hopefully no more negative counts...)
Massive improvement on image loading speeds
Lifted the 30 MB upload limit (bug)
Quoting in the forum now works
Missing links between maps and items have been resolved
Broken links